What on earth is a Mutton Shunter? It was the name given to policemen in Victorian times. Who knew? Certainly not me.
Fascinating Reading
I've been fascinated by a book I have seen online called 'Passing English of the Victorian era: a dictionary of heterodox English, slang and phrase' by James Reading Ware. It was published in 1909 and is full of words that are no longer used in the everyday English language. Some of it is very funny and some are quite rude.
Mutton and Lamb
So why were policemen called Mutton Shunters? Apparently, there was a lot of prostitution going on,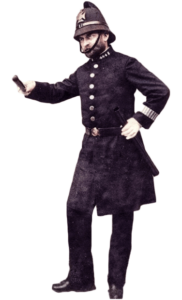 especially in Victorian London and because many of the ladies were hardly youngsters, they were known as Mutton. The old saying, Mutton dressed as Lamb, meaning an older person trying to make themselves look a lot younger. The police were forever moving on the ladies of the night, hence 'shunting' and so they became known as Mutton Shunters!
So Many Great Words
It doesn't end there. It seems as though there are many hundreds, no, probably thousands of sayings from the Victorian era that are never used today. I have found it fascinating and funny at these long lost phrases from the past. I've listed a few below, but there are thousands more.
CHUFFY – to be proud
WAGTAIL – a promiscuous woman
MALMSEY NOSE – someone who drinks too much
MUCK SNIPE – a person with low morals
WINDY WALLETS – someone who talks too much
BALLOON JUICE LOWERER – someone who can't handle their liquor
SPORT IVORY – smile
PUCKFYST – thirsty
TOTTY ONE LUNG – an asthmatic person with a high opinion of themselves
SCURRY FUNGE – tidy the house quickly when someone calls
NIZZLE – to be slightly intoxicated
SNAGGLE TOOTH – a low-class woman with bad teeth
GONG GOOZLER – an idle gormless person
SHANT OF BIVVY – a glass of beer
POPSY WOPSY – pretty doll-like girl
FLY RINK – a polished bald head
BELLY WASHER – lemonade or aerated water
GOT THE MORBS – a temporary melancholy
If you want to view the book yourself, you can follow this link: Passing English Dictionary